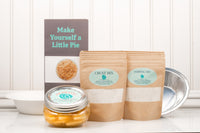 The Easiest Way to a Homemade Pie
Our kits have everything you need to bake a uniquely flavored, delicious dessert right in your own home kitchen. No special tools or skills required! So now you can, "Bake Life a Little Easier."
"Thank you so much! The apple pie is out of the oven and it smells divine. My husband is due home real soon. He's going to be ecstatic."

Mary M.
"They were delicious! To my surprise the pear cranberry was my favorite. Always been an apple guy."

Dustin S.